In most businesses, you know who the competition is, and you know them well.  When they do something different or you see them posting on Facebook all the time or they have a nice new website with great images and you don't, you see that happening.
You wonder, am I doing as much as I can online?
I talk with A LOT of business owners and the scale of sophistication is wide.  Some really are killing it and others are taking steps in the right direction, but there's still a void of understanding the basics and being able to tell if your competition is really ahead of you or just dumping money into trying something new where you're not.
Here are five things you can check in 5 minutes or less to know how good your competition is at online (you can also check your own business!).
1. Check the tags they place on their site
This is honestly the first thing I do on every site I visit, mainly because I already have what I need to check, but also because I just can't help it.  If you haven't already done this, install the Ghostery plug-in to your browser.  You can search Google for Ghostery plug-in or you can just go to Ghostery.com.  Ghostery let's you do a few things, but mainly it will tell you what tags/pixels are placed on a website.  I'm making an assumption that you know what tags/pixels are, but if don't, they're essentially what tracks you going to a site (not your personally identifiable information, just your browser, device, location, etc).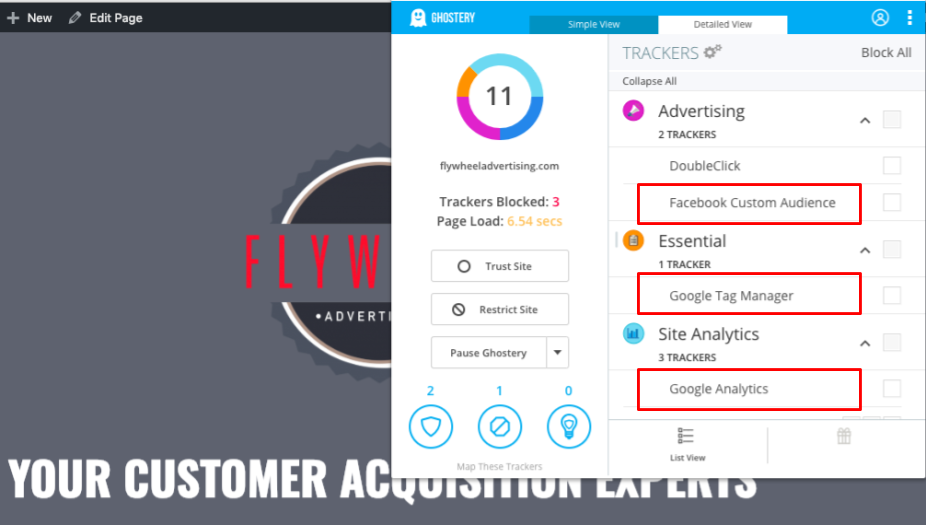 The top things you're looking for are Google Analytics, Facebook pixel, Facebook custom audience, Google Tag Manager, Google Remarketing, Bing Ads.
Google Analytics tags mean you're tracking site metrics like visits, source and medium, possibly form submissions and generally at least know what's going on with users on site(although they might not be checking this, at least they can).
Facebook pixels will tell you right away how much they're doing with Facebook marketing.  The Facebook pixel is essential to create an audience in Facebook in order to remarketing to site visitors on Facebook.  They could be running Facebook ads or they're in a place where they can run Facebook ads and track actions like certain page visits, lead submits, checkouts, etc.
Google Tag Manager is a really convenient way to implement all this tracking we're talking about and customize actions without the need for a developer.  Although it takes a developer in most cases to implement the Google Tag Manager pixel.
Google Remarketing is for collecting site audience data just like Facebook, but being able to show display/search ads across any online inventory Google owns(basically everything except for Facebook) and show those ads to people visiting the website.
Bing ads is becoming more common, but most of the time agencies and companies are only running Google PPC and Google Display ads because they can spend their whole budget on Google and it takes more time and effort to run on Bing also.  The problem with only running Google is that in every account I've ever managed, the cost per click on Bing is less than Google and converts just as well, if not better.  So it's a better ROI than Google almost always.
2. Check their social media presence
You just saw how to tell if your competition is running Facebook ads, but look if their Facebook page is linked from their website.
Go to the Facebook page for the business and look how often/regular posts are made as well as the engagement
Posting a lot doesn't mean anything and posting a lot and then skipping relatively long periods of time is a red flag of not having a sound strategy
Do posts even have reactions, comments or shares?  Even with a lot of posts, zero engagement means no one is listening.
How large is the following? – This fluctuates a lot by size of company and other factors, but posting a lot with no following is also a red flag
3. Submit your information to a form
Most of the time people are hesitant to do this, but it's really important. Use an alias email (as long as you can know if an email is sent) and fill out the form.  Do you get an email? If so, when? Do you get a call?
Most of the time there's a purpose to having a form, you want people to contact you so you can sell them what you offer.  If you don't get a call or email right away then there's a good chance not much business comes through those forms.
4. Check the phone numbers on their site
You need to know what drives the calls from your website if you're getting traffic from multiple sources. Go to their site from Google and then go to it from Facebook or Bing.  Does the phone number change?  Sites with a lot of traffic and who value phone calls will use dynamic number insertion to change the phone number on site based on the source of traffic.
5. Check their traffic sources
For large businesses with a lot of site traffic, check out similarweb.com and enter the site you want to creep on.  Similar web will tell you roughly how much traffic, how much is paid vs. organic, what sites are sending in the most traffic to the site you are creeping on and a lot more.  It's a pretty great, free tool.
Past these five things, if I really want to see what someone is doing who I think is investing a lot in online, I will go scroll through Facebook and visit a bunch of other sites that serve ads to see if the competitor is remarketing me with ads.  If I see their ads follow me around, I'll click on them and see where they take me.  I'll also look at the UTM tags they append on their URLs to see if they're actually tracking that click in Google Analytics.  The list goes on and on of what you can know relatively easily, but the five points above cover the foundation of a quick and easy way to audit your competitors.
If none of this is familiar to you and you have a website, you want to get more business online by getting started, or you're interested in having Flywheel consult on your online marketing, reach out to dan@flywheeladvertising.com or fill out the form on the homepage.
Dan Sorenson
CEO & Founder, Flywheeladvertising.com